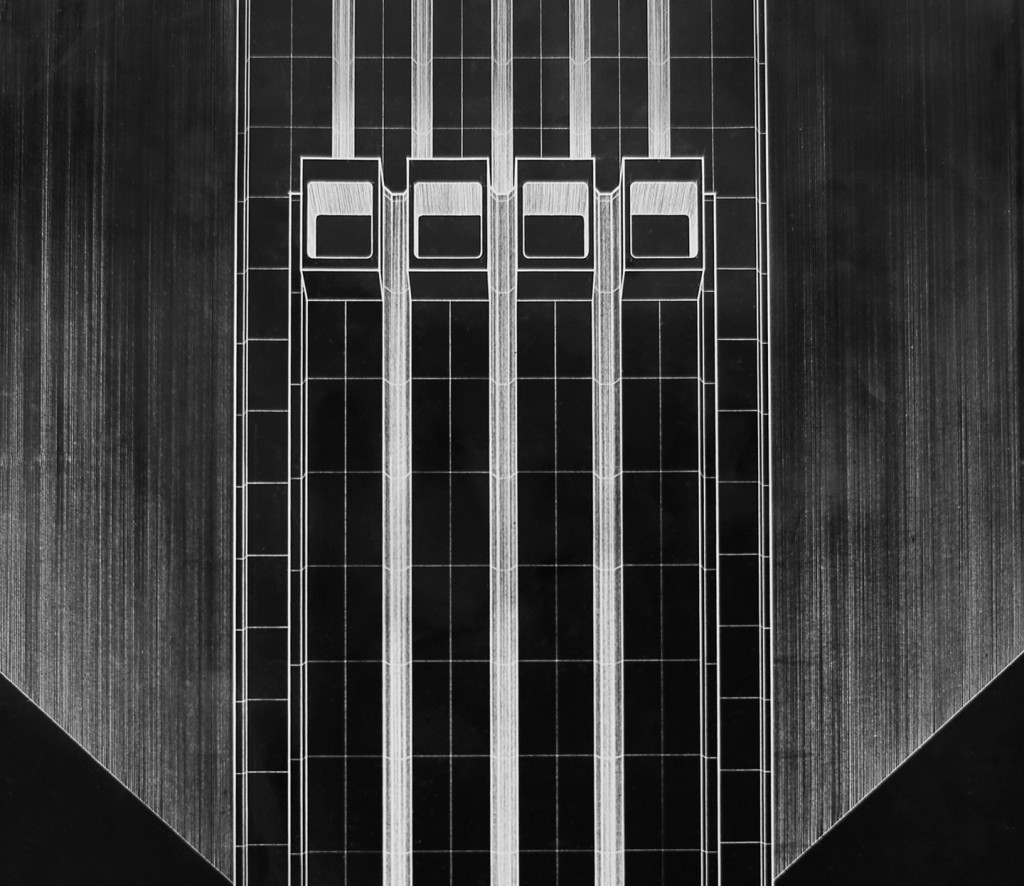 Laura Poitras has a new short film called "Project X," which screened at the IFC theater in New York a few months ago before being released online. (No, not that Project X.) Using phrases and texts gleaned from documents released by Edward Snowden, the film deals with the affective experiences of working every day as an employee of a government spy agency: don't wear clothing that could reveal your identity, drive in an unmarked car, etc. Dark and dour, the Poitras short feels like a contemporary riff on the old conspiracy film, where architecture and infrastructure add to a sense of pervasive dread.
While it narrates the lives of spies, the real star of the film is not a person but a building, the AT&T Long Lines building at 33 Thomas Street in lower Manhattan. I wrote about this building previously, under the heading of "black box architecture." But after a recent report in the Intercept, followed by a piece in the New York Times, we now have a more concrete picture of this looming monolith.
As many had long suspected and as the Snowden revelations now confirm, the AT&T Long Lines building operates as one of the main NSA listening posts in the region. The spy agency apparently identified this key chokepoint for communications going in and out of New York -- hardlines going overseas but also satellite dishes on the roof -- and installed itself in the building, taking over a few floors from their landlords, AT&T. As the Intercept reports, "the Manhattan skyscraper appears to be a core location used for a controversial NSA surveillance program that has targeted the communications of the United Nations, the International Monetary Fund, the World Bank, and at least 38 countries, including close U.S. allies such as Germany, Japan, and France."
These documents and others show that commercial entities like AT&T have long colluded with government agencies on data collection when it comes to questions of national security. Data is value. And the NSA has proven itself adept at gaining access to telephonic and digital information. The same is true for the titans of industry, who for about a decade or more have focused all their attention on data collection at all cost. Take Google or Amazon Web Services -- they're in the same business as the NSA. The main distinction is that the NSA can tap into data reserves forbidden to its Silicon Valley counterparts.
"We, and I personally, believe very strongly that more information is better, even if it's wrong," said Eric Schmidt, executive chairman of Google's parent company Alphabet, Inc. And we should take him at his word. For companies like AT&T and Google, more is better. It's also wrong.