I recently had the chance to dialogue with the Japanese philosopher Masaya Chiba. The text, which we titled "The Problem of Authority: Departing from Speculative Realism," was first published in Japanese in the journal Gendai-Shiso 44-1 (Jan 2016). I'm posting the dialogue here in the first of two parts.
Question 1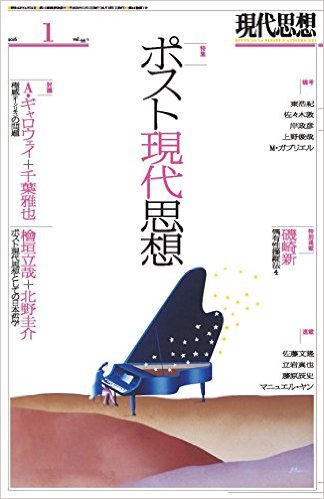 Masaya Chiba (MC): In Japan, speculative realism (SR) and the arguments surrounding it have been taken up seriously since around 2010. Here in this magazine Gendai-Shiso, some important articles by thinkers such as Meillassoux, Harman, Brassier, and Thacker have been translated into Japanese. Within such a context the picture of control society as described in your Protocol was also introduced. I and two colleagues completed a translation of Meillassoux's Après la finitude to be published at the beginning of 2016. At nearly the same time our correspondence will appear in this magazine.
Since comments and articles about SR have already flourished, and since it may be possible to say the influence of SR has receded just as you say in your blog, we can now measure in various ways the historical position of SR from a sobering distance. As for me, I am especially interested in how to capture the "desire" of SR as one expressed necessarily in a certain stage of our (over-informatized) society. Then, a question; from your point of view, if one considers the specificity of SR in the present state, what type of discourse can be productive and meaningful?
Alexander R. Galloway (AG): The desire called speculative realism—it's an excellent question. Two things strike me as most relevant at the outset. First is the status of desire as such, something that, we must admit, has its own history and its own specificity. I'm thinking of the way in which desire was slowly rehabilitated during the twentieth century, first by way of psycho-analysis and political and feminist theory, and then, more urgently, by Deleuze and his ilk. Here desire is understood in opposition to reason and rationality, not as irrationality or folly, but as a legitimate kind of force in the world. Deleuze and Guattari, with their "nonstratified, unformed, intense matter," set the standard for what has become quite commonplace today, the usurpation of rational, humanist subjects by swarms of desiring machines. So, while it has a complex history, I now associate desire with the general trend in society and culture toward affect (away from emotion or sentiment), toward horizontality (away from verticality or hierarchy), toward interaction (away from isolation), toward physics (away from metaphysics). In this way it seems natural to speak of such trends in contemporary thought in terms of a desire, since desire is such a powerful structuring force. Continue reading →