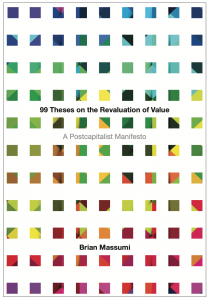 In the past I've written on how to spot digital philosophers. But let's name names. Who exactly do we mean? Digital philosophers are many: Democritus, Leibniz, Konrad Zuse, Wittgenstein (in the Tractatus but later he inverts), Edward Fredkin, Stephen Wolfram, and many others.
Analog philosophers are also observable in the wild. Deleuze is one of the most vivid examples of the species. I've also long admired Brian Massumi for his pro-analog chauvinism, proud and unapologetic. Let's remember that this is the man who, at the onset of the first dot-com boom, penned an essay titled "On the Superiority of the Analog." Massumi harbors a deep skepticism toward anything digital, particularly number and quantity. While not agreeing with Massumi -- for me the digital and the analog are co-equal -- I admire anyone willing to take a clear stand. He serves as an excellent case study in analog philosophy.
Massumi recently published 99 Theses on the Revaluation of Value: A Postcapitalist Manifesto (also online).  Written in geometric style (thesis, lemma, scholium), the book unfurls 99 theses over 135 pages, culminating in a proposal for a new kind of digital platform based on a "postblockchain speculative alter-economy" (20). I have sub-sub-interest in blockchain. Regardless, the ambient enthusiasm around blockchain from a few years ago has largely subsided, so I'll sidestep the ostensible terminus of Massumi's book in favor of its core motifs and allegiances. Ultimately this book is more about analog reality than digital currency.
It's difficult to summarize or outline a treatise written in geometric style. Instead let me chop it up, sort it, and collate it into phrases and sentences. I've extracted characteristic passages and collected them under a series of themes: awesomeology; Red Bull sublime; Google Deleuzianism; and analog chauvinism. Continue reading →