Ok, so following Mushon's sound advice, I tried to focus my research in:
1)      Finding what collaborations between new media and the Arts exist out there.
2)      After that, the next step is to evaluate what has worked well and which problems do exist and need to be changed—and also evaluate which applications/ideas can be adapted to a lesser-wired context.
What I've found so far I've  can be divided in three main usages:
1. User-generated content/interaction projects
Most of the projects that I found rely on engaging the audience (old and new) into generating new content; through social media like Tweeter or Facebook, their mobile phones, or the web. The projects go across all art genres:
DANCE– Check out Twitter Community Choreography: an ongoing experiment from Dance Theater Workshop. On Tuesdays, they ask their Twitter followers to send one movement (or nonmovement), to form a choreography. They put all the responses together and engage the audience into choosing the order in which the moves should be interpreted, and afterwards they ask them to participate in the music and sound editing. The final result is executed by a professional dancer and filmed.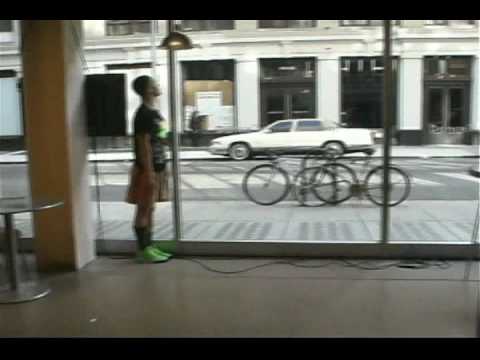 LITERATURE— Another super cool project is Penguin's "We Tell Stories"- they challenged some of their top selling authors to create new forms of story, designed specially for the internet. Over six weeks writers created tales "that take full advantage of the immediacy, connectivity and interactivity" The stories are targeted for young people and have different styles and levels of interaction. "The 21 Steps", for example, is a homage to "The 39 Steps" in a story that must be followed around the world through Google Maps. In other stories the author would do a real-time writing of the story on a blog-type app, one hour each night for a week; or a Choose-Your-Own-Adventure type of story where the reader makes the decisions. A cool catch is a contest that involved a seventh story hidden through the web, with clues both online and in the real world that led the readers to win prizes.
2. Access to archives
Besides YouTube and Hulu, there are many resources that offer great quality content totally or almost free. Two great findings:
FILM— Less than a year ago, Japanese director Akira Kurosawa's archive was completely uploaded and disclosed on the Web for anyone to enjoy. Screenplays, photos, his beautiful watercolor storyboards, drawings, notes, newspaper clippings, etc can be accessed for free .
The guys from The Auteurs (if you haven't yet, definitely join) have managed to offer super good quality streaming for tons of high-quality movies, either for free or for as little as $1.
3. Social media—on the side findings.
Although it may not seem very exciting, for me it was a treasure to find a super useful study conducted by Marc van Bree, http://mcmvanbree.com/about.htm#resume a top PR and MKT man for the arts, who actually put the effort into gathering information and in-depth interpretation of a pool of 81 orchestras—which can basically can be traduced into most types of cultural institutions.
It is not news that social media is a powerful tool for gaining advocacy, branding, funding and general diffusion of any topic. But in my experience, arts institutions have been very slow in incorporating this new media to their communication and marketing strategies. One important element is the lack of feedback and research on social media & the arts impact and concrete results. To that, this study proves to be an invaluable tool for gaining support and budget from high executives in arts organizations.
This is what I found more interesting from many other sites, but am still looking for examples that help delivery of existing content into new audiences. I also found that I need to improve my search skills because I need to get more time-efficient. Sorry to post this late today!