LIVING STORIES: What is it?
These past several weeks I decided to investigate Google's experimental interface for experiencing news online called – Living Stories.  From December of 2009 – February 2010, it experimented by utilizing the help of The NYTimes and The Washington Post to find out if people preferred and enjoyed this new way of experiencing online news.  Since the experiment, there has been a growing optimism with the future of possibilities of how it could change the nature and interface of online news.
Watch the video to understand what exactly is Living Stories: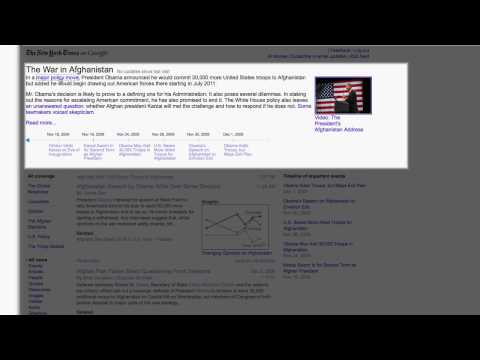 Open Sourcing Living Stories:  What happened to it?
Around the time that I started to research it, Google went ahead and announced that they were open sourcing it to the public in hopes that people would find their own unique ways to develop and implement it.  So, my focus revolved around the question of, "Who and what were developing the newly open sourced Living Stories???" This question lead me to dig around the website, Google Blog, online articles, and the discussion forum in hopes to find out who were some people besides Google's guinea pigs (The NYTimes and The Washington Post: two of the most heralded newspapers in the US) that were trying to cultivate the program on their own…
According to Google, Living Stories was preferred over reading traditional news formats by 75 % of the people surveyed.  It was considered a success and so with that, Google released it to the public on February 17th, as an open source code.  Therefore, I set out to find out more about the silent success of this amazing new concept for online news.  Here is a recapitulation of my focal points for investigation:
"There are times when silence has the loudest voice" – Leroy Brownlow
My research and journey will be to figure out what I'm able to on where the project is going since its release to the public.  I have already contacted some owners of the experiment from Google that were in charge of Living Stories and even some people at the New York Times and the Washington Post to see what they are continuing to do with the format.
In addition, I will try to seek out some developers who are working with it to see what they have been able to do with it.
Lastly, I will also attempt to contact various news agencies and inquire about whether or not they would implement such a format to their online site.
What was I able to find out it… It's hibernating for now
After sending out several emails to some leads that I garnered perusing around the discussion forum for Living Stories, I was able to get a hold and interview Neha Singh, software engineer for Google and another person, using a pseudonym  Eugene, at Nature Publishing Group who is attempting to develop it further for an online scientific articles like those of Naturenews.

Eugene told me that, "We're looking at experimenting with it to show both science news and the human stories behind important scientific discoveries published in the journal".  He was enthusiastic about working to develop the code despite running into a couple minor problems with content manager timing out, but for the most part, was hoping to develop a time line interface of historical articles with the same topic.
Mr. Singh was pretty helpful in taking the time to answer my questions, but could not divulge any information that would lead me to developers or other people who might be working on the code.  He also couldn't provide me any contacts from the NYTimes or the Washington Post without their permission.  All he could tell me was mostly the same information that he had written on the official Google Blog nor could he answer (which I assumed) some harder questions like – Was this a political move to develop better relations with news companies and the general public by open sourcing it? He could not comment.
Another lingering question was whether or not Google's decision to open source the code for Living Stories was planned from the beginning or was it something that was considered after the experiment was over.  After verifying the Living Stories blog post from December when it originally started and the answer that I received from Neha, I learned that Google's intentions from the start were to open source it after the experiment finished.
Paul Bradshaw, of the
online journalism blog
, on his report of Google's Living stories.  Bradshaw asks two very important questions that I thought were worthy of including>>
How much of the construction of the page is done automatically, and how much requires someone to input and connect data?
This question addresses the extent and ingenuity behind the code itself.  The code creates an interface that allows for an updated version of the stories to continue to funnel down the page with several key features to choose from along the sides e.g "most popular".  However, from talking to Eugene, he did mention that the content manager kept timing out.  So I would presume that the construction of the page is formatted somewhat automatically, but also needing someone to input and connect further stories of course.  From what I did find out about some of its features, it is capable of filtering out information that you (as a reader) have previously read and highlighting what information is new.
How does this address the advertising problem?
Of course, advertising is very important for publishers.  There were no advertisements on Living Stories as of yet, but publishers who adopt it could potentially post advertisements alongside the articles.  While Google announced its revenue sharing project with publishers with Fast Flip, it should be able to equally implement advertisements for revenue purposes with Living Stories "if" publishers decide to appropriate it. 
Conclusions and a lingering curiosity:
I was holding out a little longer because I was hoping to get a response from a contact at the NYTimes.  Unfortunately, he didn't respond to my email, but if he replies in the next couple of days I'll post an update on Living Stories. I believe that this experimental new format for online news raises some interesting questions about the simple but profound reality that it is open source.  Moreover, the silence does speak volumes based off of the fact that it was a success according to Google and their pervading optimism.  Although I wasn't able to find out much with how people are developing the code, I would be remiss if I did not believe that we have seen the last of Living Stories. I really want to know what the NYTimes and The Washington Post are doing with it.
For one thing, profit is the driving force behind businesses and so I wonder how using the free open source Living Stories format would compare with something like the Times Reader 2.0 where the reader pays a weekly subscription of $3.45?