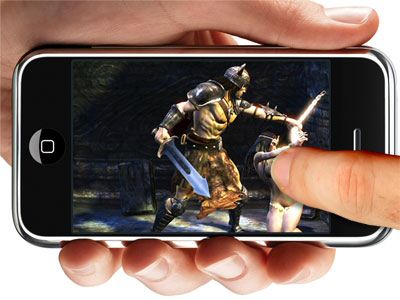 GPS, MP3s, Telecommunication…can Apple integrate yet another market into it's iPhone? Nobody knows for sure as of yet, but it certainly seems that a new trend has slowly been emerging on the iPhone – video games.  It started innocuously enough with simple pick-up-and-play type games made by small companies and indie developers. And, if iPhone users did want to tap into more in-depth gaming, many times they had to "jailbreak" their iPhone. But, over the past few months, well-known developers have slowly been revealing plans for and releasing bigger budgeted  games on par with those traditionally seen on dedicated gaming handhelds produced by companies with established video game market share- namely, Nintendo and Sony with their DS and PSP, respectively. Furthermore, Apple has been allegedly bringing gaming experts into the company. The implications were there in the past, but this week seemed to have more concretely defined where the iPhone might go next.
This past week, big game developer Capcom proved to up the ante for the gaming industry with its game Street Fighter IV set to be released for the iPhone this coming March. What makes this release different from past big game releases on the iPhone, such as Resident Evil: Degeneration, is the fact that Street Figher IV was "no quickie, banged-out port" (port = when a manufacturer simply rewrites a game's code for a different operating system). Rather, it was specifically made for the iPhone from the ground, up, with visually stimulating graphics and an iPhone specific virtual pad. Furthermore, Capcom completely avoided developing this game for the more traditional, well-known systems (Nintendo DS and PSP); Street Fighter IV was first released on the home consoles Playstation 3 and Xbox 360 a year ago, and is now going straight to the iPhone for the portable version.
There are many implications that come with such a well-known gaming manufacturer so clearly and strategically investing in the iPhone as a new operating system. Will Capcom be the only gaming company that sees iPhone as a viable new gaming portal? Or, will others soon follow their lead? Furthermore, do avid gamers see the iPhone as an operating system they are willing to invest in themselves? For instance, a positive gaming experience can very much be a result of the system's control pad. Will gamers enjoy this virtual game pad and look to see it recreated in other iPhone games, or will they reject it as not up to par with the traditional physical version?
While I might not be able to report back on how well Street Fighter IV for iPhone sells and is or is not accepted by the gaming community (since it's not coming out until some time in March), I would like to research and explore how the gaming community, from both the producer and consumer side, reacts to this said course of action. I'd like to explore the questions above, as well as the following: How open is Apple to established gaming manufacturers making such in-depth games? What does this mean for the indie developers? Will Capcom follow up with announcing more games specifically made for the iPhone in due time (ie, does the company already have other games in the works that it will soon release, as well)? Or, will they wait and see how Street Figher IV does in the App Store before investing more money? If iPhone catches on as a viable gaming device, what does this mean for the future of traditional gaming systems?
While I do not anticipate answering all of these questions, these are topics I will keep in mind and explore while I travel through the gaming sphere. I plan on researching the questions through a number of different means: news articles, forum discussion boards on well-known gaming sites (www.ign.com, www.gamespot.com, & http://g4tv.com), talking to gamers, and trying out some current iPhone games, myself. I'm also open to any ideas you guys might have!
Similar Posts: