Silicon Film
From Dead Media Archive
Error creating thumbnail: Unable to save thumbnail to destination
Originally known as ImageK, Silicon FIlm is best known for never really existing. The digital film attachment for 35 mm film cameras generated lots of interest and publicity only to die out before every reaching the market. The product (dubbed the EFS-1) looks like a reel of 35mm film, and replaces the normal film to record the images digitally. At the bottom of the camera, a receiver is attached that allows users to view their photos
The EFS-1 and its Limitations
The unit itself only had 64MB of space, leaving room for only 24 images. To upload images, there are two options. The EFS-1 can be inserted into an e-port, which as a PCMCIA connector which can then be inserted into a PCMCIA slot for download. For those who are not around a computer, the e-port can be inserted into an e-box, which then transfers the images onto compactFlash cards. The EFS-1 took two batteries that could last for several hundred shots.
The 1.3 megapixel CMOS sensor only utilized 30% of the center of the frame, meaning that when looking in the viewfinder, there is a very small field of view (marked by a supplied rub-on transfer). What results from this is a multiplication of focal length by 2.58x, making a 28mm lens become 72mm for example.
Only certain cameras were supported by the EFS-1: Nikon F5, F3, N60/N90 and Canon EOS-1N, EOS-A2, EOS-5.
Shooting an image writes an RAW file onto the EFS-1 which is then decoded by a Photoshop plugin which performs bayer interpolation, white balance, gamma and exposure compensation.
Brief History
June 1998 - The first model of what would become Silicon Film appeared as ImageK, a subsidiary of Irvine Sensors, a company in Irvine California. The prototype of this model was an insert that they said had a 1.3 mega-pixel sensor and a 2.58x crop factor.
September 1999 - Irvine Sensors renames the product "Silicon Film"
February 2001 - The first public demo of Silicon FIlm takes place. According to those in attendance, the pictures shown in the demonstration were different from the models, causing speculation that the prototype was entirely nonfunctional and the images had been created prior to the demo.
September 2001 - Irvine Sensors announces the suspension of Silicon Film operations. The reasons cited include a supposed failure to pass European product safety (EMC) tests. The company claims however to have passed the USS (FCC) tests, but the FCC denied this claim
Business Decisions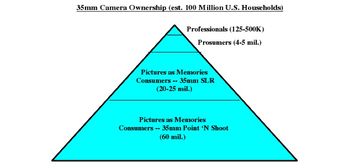 "Will digital photography do to traditional photography what CDs did to records, make them a collectors item? Not as far as (e)film creators Silicon Film Technologies is concerned"
When it was first announced, Silicon Films' Technology was considered to have the potential to be "as revolutionary as the Polaroid cameras of the 1950's." With headquarters in Irvine, California, the company defined the scope of its operations to include R&D in micro-miniaturization of imager packaging and integrated circuit sensor implementation.
Originally known as Imagek, the majority-owned, independently operated subsidiary of parent company Irvine Sensors Corporation was renamed Silicon Film Technologies in 1998. Under CEO Robert Webber the company was plagued with missed release dates and continual disappointments. As a result, Kenneth P. Fay from Kodak was brought on as Chief Operating Officer in early 2000 and later elected to the position of President and Chief Executive Officer. The board hoped the change in leadership might turn the company around and bring the vaporware technology into being, but it only lead them further towards a set of turbulent strategic decisions. Also in 2000, SFT partnered with MeltroniX, who specialized in design, volume manufacturing, and testing capabilities for high growth industries, to help with engineering and volume manufacturing issues. With the ongoing struggle to produce a working prototype, the issues of scale never became practical issues.
At the end of 2000, Irvine Sensor Corporation's stock was considered to have a potentially very high reward after factoring in the risk Silicon Film Technologies brought to the company as a whole. Just over 6 months later, it announced a plan to change its CEO once again. In recruiting William Patton, the parent company thought the veteran business man could succeed where previous appointment Kenneth Lay had not. In the midst of these management shifts on March 15th 2000, Silicon Films signed an exclusive distribution contract with Ringfoto for immediate access into all European Union countries, Scandinavia and Eastern Europe photo market. These contracts were made under the assumption there would be a product to ship.
After its first life trade show in February 2001, the timeline for release appeared to be back on track. The product shown at show was partially outsourced to Quest Manufacturing, a vendor of shaped metal parts. In May 2001, Silicon Film Technologies announced it would begin accepting orders. This was under the assumption that it had received the necessary testing for public release, which it in fact had not. When taking orders, the company priced the EFS-1 System at $699, compatible with Nikon F5, N90, and F3 and the Canon EOS 1N A2/5 models.
After failing certification tests, Silicon Film Technologies was forced to suspend operations on September 15, 2001. The company attributed the issues to FCC and European emissions standards, but its parent company and largest creditor refused to extend further lines of credit. In an attempt to cover outstanding debts, SFT was bought out of bankruptcy shortly there after by Quest Manufacturing, a previous supplier.
But this isn't where the patent stopped changing hands. When trying to continue development, Quest hired Applied Color Science to help engineer. While a working prototype was developed, the modular adaptor was larger than the camera. When Quest ran out of funding before it could miniaturize the product, the patent was again used to cover debt obligations, finally ending with Applied Color Science.
Fraud
In 2001, Silicon Film attended the Photo Marketing Association (or PMA) International Convention and Trade Show to unveil its long awaited EFS-1 digital film product and its accompanying accessories. At the time of this "demo" the product could only hold 24 pictures, was only compatible with Nikon F5, F3, N60/N90 and Canon EOS-1N, EOS-A2, and EOS-5 models, and limited the viewing area of the image. These limitations were a small compromise for the final unveiling of the product, but some message board enthusiasts speculate in hindsight that the performance put on at the stand might have been a well-orchestrated fraud where pictures were produced with a digital camera prior to the event.
Failure
More than 18 months after the product was promised, parent company Irvine Sensors Corporation was sued because of allegations of misleading information in regard to the state of Silicon Film Technologies Inc. The claims of the case are reproduced below:
(1) the EFS-1 suffered from serious and insurmountable technical design flaws; (2) these design problems would prevent the unit from passing the required FCC and CE certifications necessary to publicly release the product; (3) the current design of the EFS-1 was extremely difficult to produce. Specifically, it took hundreds of engineering hours to produce one unit with a success rate of about one unit in three working; (4) an internal design review was conducted in May, 2001 with all the top officers of SFI, ISC and all of the suppliers for the EFS-1 that were owed millions of dollars. The results of the internal design review were that SFI had a design and parts to produce about 200 units. However, the biggest contract SFI had was for 100 units to a European distributor who would not accept the units since they would not pass CE certification. The web-site sale commitments for domestic sales was for only a few dozen units; (5) EFS-1 technology presented potential patent conflicts with those already registered by Kodak; (6) SFI and ISC had scrapped the initial design of the EFS-1 and were scrambling to develop a new prototype; (7) several key employees on the EFS-1 project left SFI further hampering the development process; and (8) William Patton never accepted the position of Chairman and Chief Executive Officer of SFI..
Error creating thumbnail: Unable to save thumbnail to destination
The product did suffer from technical design flaws. In its attempt to build on existing technologies it was forced to adapt. In the case of internal inconsistency between camera models the company found that 6 difference versions would cover the majority of "popular high-end camera bodies". SFT might have been able to achieve the miniaturization, but luck was never on their side and Applied Color Science developed the technology long after the grass had grown over the grave of Silicon's bankruptcy.
While there were technical design flaws in Silicon's ambitious plans to create sensor, processor, and storage components, this obstacle was overcome by competitors in a timely manner. The real problem for Silicon Film was casting the product as a transitory step. It was targeted with lines such as "if you just aren't ready to go totally digital, the EFS-1 System from Silicon Film Technologies Inc. is a good compromise". While this easy adaptation did have the benefits of using the SLR's superior optics and features beyond those of the digital cameras at the time to sell to an existing consumer base, time was limited. Even with this quicker learning curve, the product would have to be in the market to be adopted. A senior engineer was on the record saying, "EFS was only ever going to be a short term product. We knew that DSLRs would fall in price and eventually make the system obsolete". Here he recognized the time pressure that was too much for SFT.
As a compromise between the digital camera and popular SLR's, the EFS effort exposes the expanding gap between consumer camera products and professional equipment brought on with the invention and spread of digital.
Beyond the market pressures to get the product out there were a vast marketing effort. Some critize the focus on profitability over development, joking that car rental expenses exceeded those for R&D. Beyond the technological and strategic reasons opposing success, an ultimate lesson from the failure of Silicon Film Technologies is that interesting ideas do not automatically turn into practical products.
Legacy
"When Silicon Film Technologies filed for Chapter 7 bankruptcy in Sept of 2001 EFS-1 was probably 3 months (my estimate, our management was saying 2 months) from reaching the market place." Jon Stern - Senior Engineer, Silicon Film Technologies
The people at Silicon Film Technologies may have dropped the EPS-1, but they didn't stop working. After going through iterations of selling and reselling, the company was known as Voyager One, and then finally settled on Monarch Petroleum Products, with a focus on producing gasoline additives.
References
"PMA 2001 Show Report: Section Four: Digital Photography Review." Digital Photography Review, News, Reviews, Forums, FAQ. 16 Feb. 2001. Web. 16 Nov. 2010. <http://www.dpreview.com/news/0102/01021404pma04.asp#siliconfilm>. "Silicon Film Technologies Promotes COO to CEO; Former Kodak Executive to Lead Company into Next Phase of Business. - Free Online Library." Free Online Library. /PRNewswire, 5 May 2001. Web. 16 Nov. 2010. <http://www.thefreelibrary.com/Silicon Film Technologies Promotes COO to CEO; Former Kodak Executive...-a061895730>. "MeltroniX Inks $2.8M Deal for Volume Manufacturing With Silicon Film." Business Wire. Business Wire. 2000. HighBeam Research. 16 Nov. 2010 <http://www.highbeam.com>. Nemeth, Andrew. "Silicon Film - an inside Story by Jon Stern." Andrew Nemeth Φ Nemeng.com. Web. 16 Nov. 2010. <http://nemeng.com/leica/004fa.shtml>. B.K. GREEN, on Behalf of Himself and All Others Similarly Situated v IRVINE SENSORS CORPORATION, ROBERT RICHARDS, JOHN STUART JR., JAMES D. EVERT, JOHN CARSON and ROBERT WEBBER,. CENTRAL DISTRICT OF CALIFORNIA, Southern Division. 14 Feb. 2002. Print.